How can exercise be prescribed meaningfully for cancer patients?
Posted by Kara Gilbert and Dr Alice Carruthers on 11 December 2020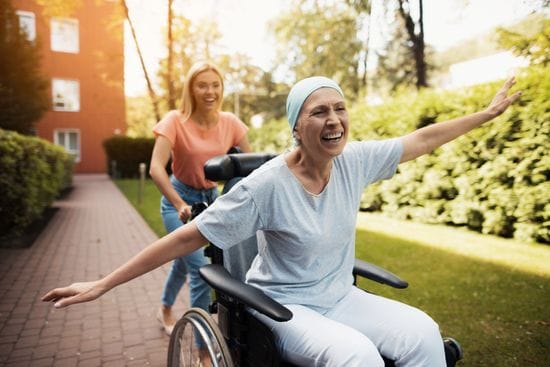 KMG Communications at COSA ASM 2020. Article #3 of 6.
KMG Communications is rolling out a suite of articles summarising the highlights of key posters and oral presentations under the cardio-oncology theme at the Clinical Oncology Society of Australia (COSA)'s annual scientific meeting (ASM) 2020, with a particular focus on the role of exercise in the cancer patient's treatment journey. This is the third article in the series.
There was a clear call put forth by clinical oncology experts across various presentations at COSA 2020 for routine cardiovascular risk assessment prior to cancer treatment, and subsequent management of high-risk patients. The benefits of exercise on cardiovascular health in the general population are well documented, and exercise represents a relatively low-cost method of reducing cardiovascular risk. However, exercise programs provided for people with cancer need to be thoroughly tested to ensure they are feasible, safe and effective.
The feasibility of an exercise program can be assessed in terms of whether:
a cancer service or clinic has the internal resources to deliver an exercise program;
the program will actually be used by patients; and
the program shows promise of being successful.
This was the focus of several presentations at COSA 2020.
Testing an exercise program in the acute cancer treatment clinic
Dr Amy Dennett, a physiotherapist and Grade 4 Research Translation Fellow at Eastern Health/La Trobe University in Melbourne, presented on 'Bridging the gap: Feasibility of embedding exercise therapy into an acute cancer treatment setting' (Abstract #95)
Dr Dennett demonstrated that an 8-week individually tailored exercise program delivered to cancer patients preparing for or receiving treatment was safe and feasible. The exercise program involved two-hour physio-led open gym sessions once or twice per week, with comprehensive assessments pre- and post-exercise. The program resulted in clinically significant improvements in cancer patients':
physical function;
strength;
fatigue; and
overall cancer-specific quality of life.
An exercise program tailored to cancer patients proved very popular. Not only was the program deemed safe, feasible and effective, it was also popular, gaining more referrals than expected. Feedback from patients and clinicians showed that the exercise program was acceptable to both groups, and it was clear that the success of the referral program rested on:
the ease of referral
visibility of the program; and
having the right staff on location.
Approximately half of patients accepted the referral and took part in the program.
Exercise programs tailored to patient prognoses
The program referred to above accepted patients with any cancer type. However, Dr Ben Singh from the University of Lyon in France and his collaborators in Brisbane and Canberra explored whether the feasibility and outcomes of exercise programs differ when provided to patients with different prognoses.
In his presentation, 'Safety, feasibility and effect of exercise following cancer: do findings differ according to survival prospects?' (Abstract #400), Dr Singh explained that, while the overall 5-year survival rate for all cancers combined is 69%, there is vast variation when we zoom in to individual cancer types: the 5-year survival rate of colorectal cancer patients is 70%, while those with lung cancer have a 5-year survival rate of only 19%.
Dr Singh presented the results of two recently published independent meta-analyses, which assessed the safety, feasibility and effects of exercise for lung and colorectal cancer patients1,2.
With regards to clinical outcomes, the meta-analyses found that exercise may be able to benefit cancer patients in meaningful ways regardless of their cancer prognosis. Improvements in both groups of patients were noted with respect to:
quality of life;
aerobic fitness;
upper body strength;
anxiety;
depression; and
sleep.
Withdrawal from and adherence to exercise programs were similar between lung cancer and colorectal cancer patients and the rate of exercise-related adverse events was low in both groups.
Is it feasible to deliver exercise via telehealth for people with cancer?
Due to the disruption that has occurred in many of our standard clinical services during 2020, and the subsequent increased use of telehealth services, the results of the poster presented by Dr Kellie Toohey from the University of Canberra are particularly pertinent: 'The feasibility of exercise interventions delivered via Telehealth for people affected by cancer: A rapid review of the literature'3.
Dr Toohey and her colleagues found that telehealth-delivered exercise interventions are a feasible alternative to face-to-face programs. The telehealth programs included in the review were safe, there was good compliance, and participants reported an overall positive experience.
Open access to the 2020 COSA program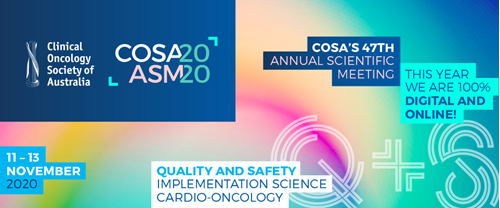 Oral abstracts on the WWW: https://onlinelibrary.wiley.com/doi/10.1111/ajco.13497
Oral abstracts as PDF: https://onlinelibrary.wiley.com/doi/epdf/10.1111/ajco.13497
COSA's 47th Annual Scientific Meeting Quality and Safety Implementation Science Cardio-Oncology, 11-13 November 2020. Asia Pac J Clin Oncol. 2020 Nov;16 Suppl 8:58-207. doi: 10.1111/ajco.13497. PMID: 33161624.https://pubmed.ncbi.nlm.nih.gov/33161624/
References
1. Singh B, Spence RR, Steele ML, Sandler CX, Peake JM, Hayes SC. A Systematic Review and Meta-Analysis of the Safety, Feasibility, and Effect of Exercise in Women With Stage II+ Breast Cancer. Arch Phys Med Rehabil. 2018 Dec;99(12):2621-2636. doi: 10.1016/j.apmr.2018.03.026. Epub 2018 May 4. PMID: 29730319. https://pubmed.ncbi.nlm.nih.gov/29730319/
2. Singh, B., Hayes, S.C., Spence, R.R. et al. Exercise and colorectal cancer: a systematic review and meta-analysis of exercise safety, feasibility and effectiveness. Int J Behav Nutr Phys Act 17, 122 (2020). doi: 10.1186/s12966-020-01021-7.
https://ijbnpa.biomedcentral.com/articles/10.1186/s12966-020-01021-7#citeas
3. Morrison KS, Paterson C, Toohey K. The Feasibility of Exercise Interventions Delivered via Telehealth for People Affected by Cancer: A Rapid Review of the Literature. Semin Oncol Nurs. 2020 Dec;36(6):151092. doi: 10.1016/j.soncn.2020.151092. Epub 2020 Nov 20. PMID: 33223409.https://pubmed.ncbi.nlm.nih.gov/33223409/

This article was first published at KMG Communications on 11 December 2020.

Author:
Kara Gilbert and Dr Alice Carruthers
About: Kara Gilbert is founder and principal at KMG Communications. Dr Alice Carruthers is a science and medical writer, with expertise in cardiac pathophysiology.