The Occupational English Test (OET) Forum 2015
Posted by Kara Gilbert on 17 November 2015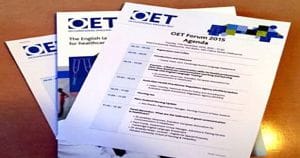 OET, The English language test for healthcare professionals
@ The InterContinental Melbourne, The Rialto
There were some thought provoking presentations today on language assessment for health professional contexts by distinguished keynote from the UK, Dr Jonathon Silverman and others.
The sessions today really put test material writing, development and assessment under the microscope. It was a privilege to hear Prof Lesleyanne Hawthorne's very latest breakdown of healthcare immigration workforce data patterns and to input into discussions that generated thinking about ways to improve current testing trends for migrant health professionals.
And, of course, it was a pleasure to catch up with some of my wonderful colleagues in the sector, Andrea Paul and Adela Abu-Arab.