Fallacy-Free Reasoning in Medicine
Posted by Kara Gilbert on 1 March 2016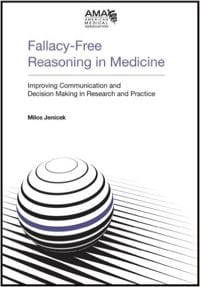 Fallacy-Free Reasoning in Medicine: Improving communication and decision making in research and practice
Author: Milos Jenicek
Publisher: American Medical Association
Year: 2009
ISBN: 978-1-60359-099-0
Book Review
"Medical errors are not only a question of a physician's learned knowledge, practical skills, experience, fatigue, stress, faulty technology, difficult patients, emotional state, and personal life projections. Medical errors also occur as the result of a physician's faulty reasoning, communication, and ensuing decision making." (p. 134)
Milos Jenicek takes us on a complete and thorough journey of fallacies as errors in medical reasoning and decision making. Drawing on principles of argumentation and critical thinking, he shows us how to examine 'reasoning-dependent' human errors (the so-called fallacies) in medical contexts. The idea is that by learning how to understand, detect and correct such errors, medical practitioners can avoid them.
Jenicek brings philosophy and critical thinking into the 'medical classroom' to encourage medical and health care practitioners as well as researchers to reflect on their day-to-day practices.
Building on a model of 'argument-based medicine' in the opening chapter, he moves in to the second chapter to examine the fallacies in medical research and articles: from fallacies related to data analysis and interpretation to fallacies related to discussion and conclusions of research findings.
In the third chapter, Jenicek focuses on the essential role of language and communication in medicine, and explains how good, sound reasoning is a hallmark of professional competency and the cornerstone of professional responsibility.
In the fourth chapter, we get exposure to the communication challenges of medical and health practitioners and researchers with laypersons, patients, and stakeholders. Jenicek's emphasis is on considering "someone else's world of reasoning" with the aim to avoid fallacies in complex dialogues or interactions so that we "arrive at correct decisions for our individual patients (disease cases) and at the community level (diseases as a whole)" (p. 129).
Jenicek injects humour into philosophical theory. His 'Note about bullshit, humbug, crap, and garbage in connection with fallacies' (p. 21) is fabulous.
I believe that the articulation of good, sound reasoning is paramount to effective communication and medical practice. This book sheds new light on medical communication and 'best practice'. It is truly a valuable resource.
Author: Kara Gilbert @ KMG Communications