Cancer therapies may put cancer patients at greater risk of heart disease
Posted by Kara Gilbert and Dr Alice Carruthers on 9 December 2020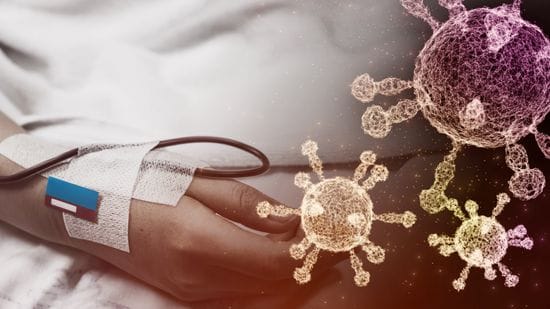 KMG Communications at COSA ASM 2020. Article #2 of 6.
KMG Communications is rolling out a suite of articles summarising the highlights of key posters and oral presentations under the cardio-oncology theme at the Clinical Oncology Society of Australia (COSA)'s annual scientific meeting (ASM) 2020, with a particular focus on the role of exercise in the cancer patient's treatment journey. This is the second article in the series.
Cardiovascular disease and cancer share many common risk factors, including age, diet, obesity and a sedentary lifestyle. Furthermore, the risk factors associated with cardiovascular disease can be exacerbated by cancer treatment. Hence, the importance of an integrated approach to cardiovascular and cancer care was apparent throughout many of the presentations at COSA 2020.
The importance of dedicated cardio-oncology clinics
Numerous chemotherapies, targeted therapies and immunotherapies used to treat cancers are known to cause cardiotoxicity. In his presentation, 'Setting up CardioOncology Services: A cardiologist's perspective' (Abstract #102), Dr Daniel Cehic, Chief Medical Officer for Cardiology at GenesisCare (Australia's largest provider of Cardiology and Oncology services), stressed the importance of dedicated cardio-oncology services and clinics. He highlighted that opportunities for intervention are present throughout the treatment journey of cancer patients, from before the initiation of therapy to post-treatment monitoring. This is because cardiac complications may occur not only at the time of treatment, but many years later.
Early management of cardiotoxicity minimises interruptions to cancer treatment
Dr Cehic endorses enrolling patients who are on certain cancer therapies into a cardio-oncology echocardiography surveillance program, to enable the early detection of potential cardiac issues and support timely intervention and appropriate treatment1.
Dr Cehic conducts cardio-oncology clinics across Australia and advocates for dedicated cardio-oncology services, to provide patients with:
cardiac assessment prior to cancer treatment;
cardiac device management during radiotherapy;
cardiac monitoring during treatment;
management of any cardiac issues that appear during treatment; and
specialist knowledge of cancer-related cardiac effects.
Assessing cardiac risks in breast cancer patients
Dr Robyn Clark from Flinders University in Adelaide presented, 'Why are you talking to me about my heart? CVD risk stratification to identify high-risk patients' (Abstract #104). Dr Clark discussed the results of several preliminary studies aiming to understand cardiac risk and the optimal management of cancer patients.
One of the studies involved the development of a combined cardiovascular disease and cardiotoxicity risk assessment questionnaire, which was given to 36 breast cancer patients prior to cancer treatment2. The results of the questionnaire showed that several cardiovascular disease risk factors were present in newly diagnosed breast cancer patients, including diabetes (2.8%), high blood pressure (19.8%), high cholesterol (11%) and sleep apnoea (5%).
There were also several lifestyle-related cardiovascular risk factors present in this group of women. In particular, none of the women said they ate five servings of vegetables per day, 75% were regular consumers of alcohol and 61% were overweight.
Only a small number of breast cancer patients were willing to undertake lifestyle changes
Interestingly, only a small number of the women said they were willing to undertake lifestyle changes, which included learning more about heart health. Dr Clark did mention, however, that these women were asked these questions while in a cancer treatment waiting room, which may have affected their responses.
Why bother with my heart when I have cancer?
The title of Dr Clark's presentation came after a comment made by a patient during one of these assessments in the study, "Why are you talking to me about my heart?". This, along with the results of the study, suggest that:
awareness of cardiovascular risk following a cancer diagnosis may be low; and
the timing of risk assessments is potentially a crucial factor in providing effective interventions for reducing cardiovascular risk among cancer patients.
Open access to the 2020 COSA program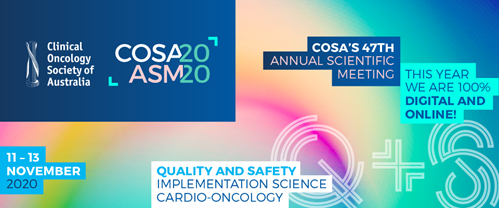 Oral abstracts on the WWW: https://onlinelibrary.wiley.com/doi/10.1111/ajco.13497
Oral abstracts as PDF: https://onlinelibrary.wiley.com/doi/epdf/10.1111/ajco.13497
COSA's 47th Annual Scientific Meeting Quality and Safety Implementation Science Cardio-Oncology, 11-13 November 2020. Asia Pac J Clin Oncol. 2020 Nov;16 Suppl 8:58-207. doi: 10.1111/ajco.13497. PMID: 33161624.https://pubmed.ncbi.nlm.nih.gov/33161624/
References
1. Cehic D, Dias, P, Toohey J. Bridging divide between Australia's two biggest health burdens. MJA InSight, 41. Published 19 October 2020. https://insightplus.mja.com.au/2020/41/bridging-divide-between-australias-two-biggest-health-burdens/
2. Clark RA, Marin TS, Berry NM, Atherton JJ, Foote JW, Koczwara B. Cardiotoxicity and cardiovascular disease risk assessment for patients receiving breast cancer treatment. Cardiooncology. 2017;3:6. Published 2017 Oct 17. doi:10.1186/s40959-017-0025-7. Full text: https://cardiooncologyjournal.biomedcentral.com/articles/10.1186/s40959-017-0025-7

This article was first published at KMG Communications on 9 December 2020.

Author:
Kara Gilbert and Dr Alice Carruthers
About: Kara Gilbert is founder and principal at KMG Communications. Dr Alice Carruthers is a science and medical writer, with expertise in cardiac pathophysiology.